Useful Links
We are on

Facebook, click here to find out more.
Click on banner or link for more information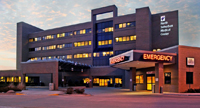 North Suburban Medical Center – www.northsuburban.com
Advanced Weight-Loss Care for Colorado's North-Denver Communities
Patient Resources


Lap-Band – www.lapband.com/en/home/
LAP-BAND® Adjustable Gastric Banding System - The original, revolutionary gastric banding system


Realize - www.realize.com
REALIZE® Adjustable Gastric Band


ObesityHelp - www.obesityhelp.com
ObesityHelp offers resources for patients, and those seeking weight loss solutions for the morbidly obese


LapBandtalk.com – www.lapbandtalk.com
Weight Loss Surgery network offering forums for patients


Three fat chicks on a diet! - www.3fatchicks.com/forum/
Offers diet support


Denver Wellness and Nutrition – www.denverwellnessandnutrition.com
The dietitians our office contracts with to work with you before and after surgery


Adventure Fitness Training - www.adventurefitnesstraining.net
Specialized training for overweight individuals that require specialized Bariatric Fitness Programs


The Women's Health Group, P.C. - www.whg-pc.com
Providing expert care for every woman


American Heart Association – www.heart.org/HEARTORG/
Provides resources on cardiac health


American Diabetes Association - www.diabetes.org
Provides resources on diabetes
---
Provider Resources
Obesity: Bariatric and Metabolic Treatment Options - www.ees.com/obesity/obesity-bariatric-and-metabolic-treatment-options
For healthcare professionals – options for educating patients, options for staying abreast of emerging research, options for enhancing your own knowledge, and above all, options for effective treatment
International Federation for the surgery of Obesity and Metabolic Disorders (IFSO) - www.ifso.com/
The International Federation for the Surgery of Obesity and Metabolic Disorders (IFSO) is a federation composed of national associations of bariatric surgeons
American Society for Metabolic and Bariatric Surgery (ASMBS) - asmbs.org
The American Society for Metabolic and Bariatric Surgery (ASMBS)is the largest society for this specialty in the world
American Obesity Accociation (AOA) - www.obesity.org
The Obesity Society is the leading scientific society dedicated to the study of obesity
American College of Surgeons - www.facs.org
The American College of Surgeons is a scientific and educational association of surgeons that was founded to improve the quality of care for the surgical patient by setting high standards for surgical education and practice
Click here to view all Your Practice Online websites.